Hi everyone! Here's my latest project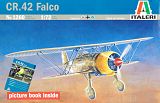 Italeri kit has many plus sides:
- nicely printed decals
- very useful reference booklet
- large number of options
Although it's the best CR.42 kit in 72nd, there are a few minor complaints
- Decal instrument panel and seatbelts (I hate this the most in modelling)
-
Propeler is faced the wrong way
(just move the axis on the oposite side)
- Rib and panel lines on the wings too heavy
- Thick trailing edge (although not as serious as in short-run kits)
The ribs were fixed with a few light passes with a '1000' sanding paper
The framework looked nice, but when painted, I decided it woud be better to see through it, so I sanded it from the back until only the framework was left. Then some structure was added to the fuselage sides...
I added instrument bezels made out of fine wire. I just wrapped it around a toothpick or something else depending its radius and voila - many perfect circles!
Seatbelts were "borrowed" from AML' G.50 (i'll find a replacement later for it)
The engine was also modified. Actuator rods were removed and new were made along with some pipelines...
Regards,
Aleksandar